Another hotel is coming to InterQuest's hot zone in Colorado Springs | Content reserved for subscribers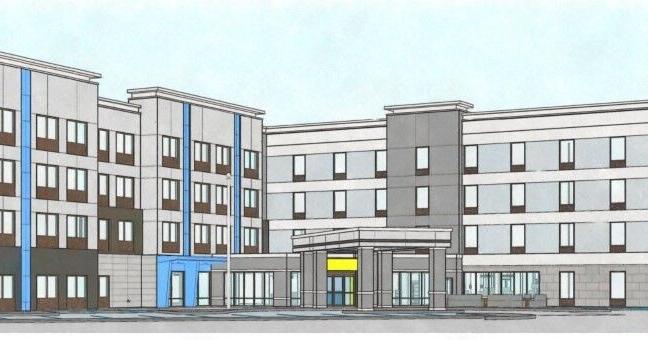 Another hotel is planned for the InterQuest area in northern Colorado Springs, which over the years has become a bustling commercial center for restaurants, shops, entertainment venues, apartments and other developments.
GAP Hotels, with offices in Houston and Lafayette, Louisiana, plans to develop a 160-room dual-brand hotel that would fly the Home2 Suites and Tru flags, which are part of the Hilton Hotels & Resorts hotel chain.
The Home2 Suites and Tru hotel would be built on 3.2 acres southwest of InterQuest Parkway and Federal Drive in downtown InterQuest, one of four mixed-use developments in the area.
"Colorado Springs is the ideal type of market for a product like Home2 Suites and Tru by Hilton," said Amit Patel, a GAP executive, via email. "It has a diverse mix of businesses, including corporate, passenger, tourism, medical and military/government, which makes our brands and product offerings ideal for meeting market demands."
Second hotel planned along Powers Boulevard in Colorado Springs
Home2 Suites is an extended-stay hotel for business people and travelers who typically stay for days, weeks, or even months and need apartment-like amenities, according to travel industry publications; Tru is a mid-range hotel designed to appeal to young travelers.
GAP has partnered with hotel brands Hilton, Marriott and IHG and has developed more than 20 properties nationwide, Patel said. Its Colorado Springs hotel would join Hampton Inn & Suites, Residence Inn by Marriott, Drury Inn & Suites, Great Wolf Lodge and Water Park and SpringHill Suites by Marriott, among other InterQuest-area properties.
InterQuest was attractive because of the region's wave of development in recent years, Patel said.
In addition to restaurants, retail, hotels, and more, InterQuest is home to major employers such as Bal-Seal Engineering. California's In-N-Out Burger also built a production and distribution facility at InterQuest when it expanded into Colorado two years ago.
Springs-based Ent Credit Union opened a new headquarters in the area last year; Centura Health is building a 72-bed hospital at InterQuest; the New Life Church and Pikes Peak Community College campuses are nearby; and the Air Force Academy is just west of the area.
Red rocks to the south? 8,000-seat outdoor amphitheater planned for Colorado Springs
"The development of retail, residential, restaurant and other businesses moving and expanding into this area shows that this area is the new hot spot for commercial real estate activity and that hotels are complementary businesses for this market," Patel said.
"The Air Force Academy is close to this area and we believe the northern part of the Springs area is the main growth corridor going forward," he added.
Although several hotels have been built and are planned at InterQuest, Patel said his group believes there is room for more and some visitors to Colorado Springs will turn to new properties.
"We believe there will be a shift in consumer choices and preferences from other established sub-markets and older existing hotels to the newer, fresher offerings that Home2 Suites and Tru by Hilton will present to customers" , did he declare. said.
The GAP project has been in preparation for several years. The group paid $1.76 million in January 2019 for its downtown InterQuest site, according to El Paso County land records. But the project – like many others – has been put on hold due to the impact of the COVID-19 pandemic on leisure and business travel, Patel said.
1:13+2
Chipotle Opens 9th Colorado Springs Location; 10 is on the way
Now travel is returning and GAP thinks the time is right to launch the hotel, he said.
"Many developers in the hotel space have put projects on hold or canceled them altogether because market conditions have changed," Patel said. "We had also put a brief pause on the project with market uncertainties, but we are comfortable with the basic fundamentals of the Springs market and the InterQuest area."
GAP Hotels is seeking approval for a development plan for its project, according to a proposal it submitted to city government planners.
In a best-case scenario, Patel said construction would begin next spring and the hotel would open in early 2024. The hotel is expected to employ 15 full-time and 10 part-time staff, he said.