Community rallies around 2-year-old child battling leukemia | Local News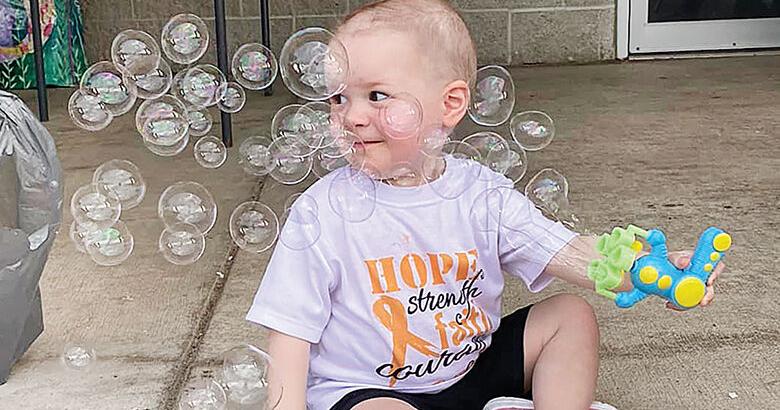 The non-profit Festival of Miles Foundation donated $18,000 to a Festus couple whose 2-year-old daughter is undergoing cancer treatment.
Emma Reece was chosen as the "athlete in need" for this year's charity track and field meet, which took place June 2 at St. Louis University High School.
The money came largely from entry receipts and donations at the event, as well as a $1,000 donation from MRV Bank to Festus.
Emma is the daughter of Billy Reece, 36, a track and field coach at Festus High School, and Laura Reece, 37, a medical management nurse at Anthem. Emma's sister Katelyn, 15, does cross country at Festus High.
"We hope the money can help reduce their expenses," said Katie Helbig, a member of the foundation's board of directors. "At 2 years old, Emma is not necessarily an athlete, but our objective is twofold: to promote athletics and help those who need it. This family is an integral part of the running community, and that was fine with us.
Since its inception in 2008, the Festival of Miles event has raised over $75,000 for athletes in need.
Festus High girls' track and field coach Wes Armbruster nominated Emma.
Billy said he and Wes were good friends.
"The day I found out (Emma's diagnosis), I texted her and said, 'Hey, something's going on and it sounds serious.' Immediately Wes was there; he started a GoFundMe, organized some things for us when we got home from the hospital.
The Festival of Miles Foundation accepts applications year-round at [email protected]
"A little pale"
Emma was an energetic and sassy young girl until last summer.
"It's kind of a crazy story," Billy said. "Late on June 30, she twisted her ankle. She fostered it for a few days, and we were watching her, but we didn't think it was a big deal.
After a few days, however, her parents took her to the pediatrician, who ordered further tests.
"She said she thought Emma looked a little pale," Billy said. "They did some lab work and told us they suspected leukaemia. We jumped in the car and headed to Mercy ER (St. Louis Hospital in Creve Coeur). Within an hour, we knew we were dealing with B-cell acute lymphoblastic leukemia. If she hadn't twisted her ankle, who knows how long it would have been before we found out? »
Emma was admitted to hospital and immediately began aggressive treatment. She underwent a bone marrow biopsy, a port was installed for IV chemotherapy and other drugs to be administered.
The family settled in for a long treatment regimen.
"A typical treatment plan is chemotherapy for two years and then monitoring for five years," Billy said.
Struggles
Life became more difficult for the Reeces when Billy, a social studies teacher at Festus Middle School, had to return to work in August.
"Laura had to take time off work under the FMLA (Family and Medical Leave Act) for a few months; then I had to take off," he said. "From October, Emma spent four to five days in hospital until Christmas. She was zapped from all treatments. This period was very intense.
Emma went on a course of high dose steroids, which affected her personality.
"She swelled up, was in a bad mood," Billy said. "She was so young that she couldn't communicate with us. As she gets older, she understands better and it's easier for us to explain things to her.
Emma lost her hair just around her second birthday in January.
"He started coming out in pieces and we decided to shave him off," Billy said. "We did mine first, then his. She shook him; she loved to wear caps.
Emma wasn't the only family member experiencing stress. Older sisters Katelyn, 15, Leah, 13, and Jo, 6, have had to cope with their parents being away most of the time and their family focusing on Emma's illness.
"With the older girls, we've been pretty upfront with them about things. We made sure to explain to them. But with Jo it was more difficult, because she just couldn't understand," Billy said. "The hardest part was our hospital stays, but we made sure to do a lot of FaceTime, to try to keep things as normal as possible."
Survey
One bright spot for the Reeces was the level of support they received.
"We have been extremely blessed by the community," Billy said. "When we came back from our first hospital stay, we had a big welcome sign in our yard. A meal train was set up, people were constantly dropping things off.
Billy previously worked in the Dunklin R-5 School District. "Their board made a big care package for us which included things like cleaning services," he said. "At Festus, a few teachers had 'Emma Strong' bracelets made and sold them to help pay medical bills. We held fundraisers at Pasta House and Krabby Daddy's. Girl Scout Troop 916 donated money to help offset the cost of gas for trips to the cancer center.
A local Amvets group raised $5,000 for Emma and her family at St. Baldrick's annual cancer fundraiser in March.
In August, Emma got a makeover thanks to Special Spaces, a non-profit organization that provides dream rooms for children with cancer.
"From the start, all we asked for were positive thoughts and prayers, but our community has grown incredibly stronger," Billy said. "It's one thing to get support from friends and family, but it's another thing to get help from complete strangers. There is a certain pride involved; it's hard to accept, but I have to remember that people do it out of love.
To give back a little, the Reeces hosted an ice cream party in June at Ginny's Custard in Barnhart, where Billy grew up.
hit the mark
In May, Emma's treatment finally reached what is called the continuation phase.
"We started going (to the cancer center) only once a week, then starting in July we were able to space out the trips to every four weeks," Billy said. "She is having monthly lumbar punctures, where they put her to sleep and draw fluid from her spine and inject chemo, and IV treatment to boost her immune system. We put her in a cart, hooked her IV up to a pole and did laps while she listened to music.
"Doctors think she is handling things very well. Research shows that early and aggressive treatment yields the best results. Once we get through these two years of treatment, we will play the waiting game for five years. But if it doesn't come back in those five years, the percentage is in the 90s and it will never come back.
The Reeces joined support groups with other families struggling with childhood cancer. "Based on everything we've come across over the past year, it looks like we're on a good trajectory," Billy said.
The Make-A-Wish organization contacted the Reece family.
"We're hoping maybe next year we might go on a trip for Emma," her dad said.
The Reeces say their faith got them through this.
"We are very conscious of the love and support we have received and the blessing we have experienced even during this horrific time," Billy said. "It was a family effort, and I like to think it made us stronger and closer. Please continue to pray.