East Broad Top Announces Winter Spectacular Schedule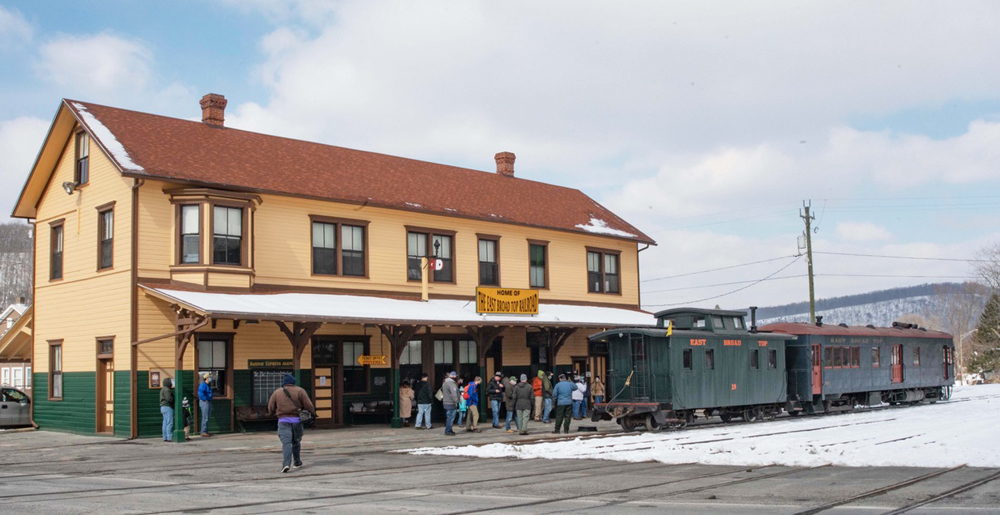 ---
ROCKHILL FURNACE, Pa. — The EBT Foundation has released the activity slate for its East Broad Top Railroad Winter Spectacular, to be held Friday and Saturday, February 18-19.
This is the second Spectacle since the Foundation acquired the Historic Narrow Gauge Railway, a National Historic Landmark, in 2020. Last year's event was sold out. Most events take place in or from the general railway offices and workshop/yard complex here.
The Spectacle was held annually on President's Day weekend from 1966 to 1981. During this time, EBT operated up to four of its six Baldwin 2-8-2 Mikado steam engines for photographers and rail fans in winter environments. The Foundation is currently working on restoring one of them, No. 16 (built in 1916), to working order for use during the 2022 season.
The weekend program:
Friday February 18
Two-hour photographers' event starting at 4:30 p.m., featuring posed scenes with Steam Engine No. 12 (built in 1911), $50.
Saturday February 19
— Travels with a 1926 M-1 gas and electric car and caboose from Rockhill Furnace Station to Colgate Grove and back at 10 a.m., 11:30 a.m., 1 p.m., 2:30 p.m., and 4 p.m. Fare, $24 to $30, depending on adult or child and seats in M-1 or caboose.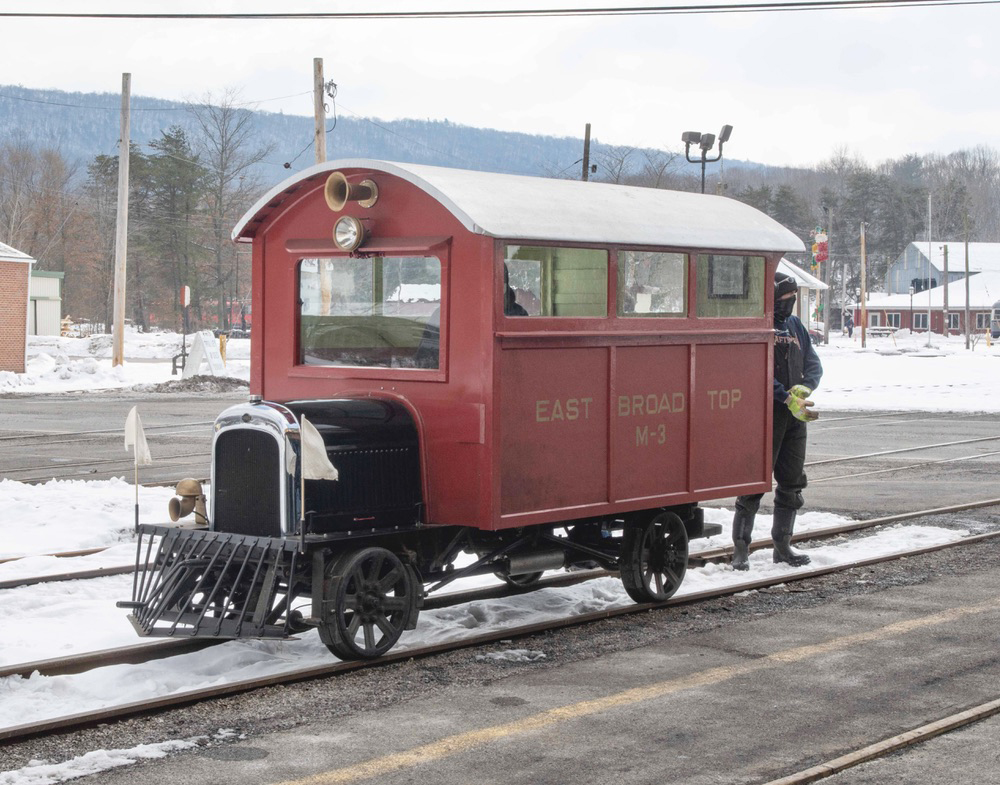 — M-3 car trips (rebuilt from a 1928 Nash car) from Rockhill Furnace Station to Colgate Grove and back at 12:45, 2:15, and 3:45 p.m. (prior trips sold out). Price, $25 all ages. Built in the EBT workshops, the M-3 can only hold five passengers and is unheated.
— Tour of the master mechanic's rotunda, 10 a.m., $30. Two-hour tour with Master Mechanic Dave Domitrovich to tour the eight-stall brick rotunda and see the restoration efforts first-hand. Closed shoes and a signed liability waiver are required. To note: For the first time at a Winter Spectacular, photography and videography are restricted on certain parts of the tour, particularly on the ongoing restoration work. EBT spokesman Jonathan Smith explained that photography of engines and rolling stock not being restored is still permitted: "Photos of these are always welcome," he said. . The ban, he said, is intended to allow EBT to "show the public our progress but channel the excitement [over the restoration of engine No. 16] properly at the right time. While four other EBT steam engines (Nos. 12, 14, 15 and 17) ran during the classic tourist era under Kovalchick family ownership (1960-2011), No. 16 did not. since the railroad ended public transport operations in 1956.
— Visit to Orbisonia station, 11:30 a.m. and 2 p.m., $30. This is a first public opportunity to see the General Offices built in 1906, with EBT General Manager Brad Esposito as tour guide. Tours of the Board Room, President's Office, Archives Vault, and Engineering Office will be included. As with the rotunda tour, certain photography and videography restrictions apply. Important note: This tour will require participants to climb a steep and long staircase to reach the second floor. It is not wheelchair accessible and is not recommended for those with reduced mobility.
— Archives benefit dinner and movie night, 5:30 p.m., $50. This will be held offsite at the Orbisonia-Rockhill Furnace Volunteer Fire Company dining facility at 873 Elliot St., Orbisonia. Archivist Julie Rockwell will describe her work cataloging the many records of EBT and its associated mining company. This will be followed by vintage 16mm color film shot by the late Clarence Weaver of Sunbury, Pennsylvania, presented by longtime railroad historian Jeff Pontius, also of Sunbury. Topics will include EBT, Pennsylvania Railroad and various branch lines. The product will benefit the archives' ongoing documentation work and provide long-term storage, preservation and, eventually, public access.
More info and reservations: https://eastbroadtop.com/events/winter-spectacular/
Also on Saturday, February 19, the adjacent Rockhill Trolley Museum will operate its Winter Trolley Spectacular, featuring historic and modern trolleys on the former EBT Shade Gap branch, 10 a.m. to 5 p.m., $15 adults, $10 children. Event staff will also be arranging tours of the museum's two carbarns at times to be announced. More info and reservations: http://rockhilltrolley.org/event/winter-trolley-spectacular/
Other East Broad Top News
In other news:
— Some pipes for a fire extinguishing system planned for the workshops and the roundhouse have been installed. When completed, a water supply system will be installed in the railway coal pier at the southern end of the workshops and yard complex.
– Planning work continues on two fronts, the visitor site at the current end of the track at Colgate Grove, and the eventual reconstruction of a station and water reservoir at Saltillo at 7.8 miles south of Rockhill Furnace on a part of the EBT mainline that hasn't seen regular service since 1956.
– According to Smith, EBT is investigating future ticket options which will include day passes and season passes. Already, the railway's ticketing software allows online purchase of fares for train travel, shopping tours and tram rides as a package. This is progress, as not so long ago EBT only accepted cash.
– Friends of the East Broad Top continue to fundraise for continued restoration far beyond expectations. By the end of January, the group had raised $207,865 of its $100,000 goal for 2022.