Family hiking weekend – The Trek
My family came to visit us on Father's Day weekend in AT! I am delighted to share the weekend with all of you from the perspective of my mother, Carolyn. Mom, thank you for coming to visit us, for being a soldier on your first backpacking trip, and for being our guest author. I like you! – Pepper
If you've read Kara & Nick's blog, you'll see that she closed her blog entry with a section called Expectation vs Realty. I thought I would share my 3 day AT adventure from that same perspective, or maybe mine would be better defined as "the plane versus reality".
The 'plan' was to hike with our backpacks fully stocked with sleeping bag, sleeping pad, tent, minimal clothing, 3 days of food, toiletries such as sunscreen , toothpaste and a toothbrush, lip balm and a mini deodorant.
Brian and I left early Thursday morning June 17th with the intention of going directly to the IAD airport to pick up Jason. Her flight was delayed at MDW Chicago so we opted to go straight to Front Royal where we had booked the Mountain Home B&B to meet Kara and Nick who had arrived earlier to shower and do the laundry. We unloaded the car and immediately went in search of food and drink for our two hungry hikers. For those of you who don't know, Nick has lost around 30 pounds since starting the Trek on April 6. They chose the local Front Royal Brewing Company which was known to respond to the Thru-Hikers by offering a free pint BOGO 🍻. We met several of their friends – Ninja, Tapper, and Easy-E – all happy to eat, drink, and enjoy a respite from the hot weather outside.
The 4 of us then loaded into the Equinox to pick up Jason from the airport. I was now a happy mom – sitting in the backseat between my two kids – a nice place to smile all the way to the grocery store to stock up on items we would need to sleep in the woods for 2 and 3 nights days. After losing $ 200, it was time to eat and drink again. The kids chose the Melting Pot Pizza restaurant – we ordered 2 large meat covered pizzas and several pitchers of beer 🍺 ALL of which was fully consumed.
We returned to the B&B to begin the arduous task of packing a backpack. Kara was very patient with us as she taught and explained how to do it and why we couldn't bring so "few items" that we thought we needed – after all – they were small and not that heavy. I never weighed my bag, but I guess it weighed at least 25 pounds. I was seriously starting to have doubts at this point – but I had decided not to complain and to enjoy the experience. We went to bed late – 11:30 am – and woke up early so we could all take our last shower and have breakfast at 7:30 am with our wonderful hosts Scott & Lisa at the B&B. We enjoyed their stories over breakfast hearing about the history of their house since the 1700s and enjoying our home cooked meal of pancakes, French toast and hot coffee.
It was finally time to go – we got out – took a family photo – we were all smiles – then at 9:30 am we started our trek to the AT.
It was uphill (seriously) for a good mile or two – maybe more. My heart was beating. It was difficult to have a conversation. The plan was to travel 10.4 miles. Before the hike – privately I thought 10 miles seemed a bit too little. After all, I ran marathons. I'm in good shape. I'm thin. I am healthy!! Needless to say, at mile 8 I was counting back, praying that I could finish the last 2.4 miles and there would be no more descent! My knees and ankles had been shaken and jostled, my toes were swollen and numb.
We arrive at the Manassas Gap campsite around 4:30 am. We set up our tent. I immediately took off my shoes and socks and put on my sandals. I walked to the spring and started the first of many hikes that night until spring to soak my bruised feet. It was SO GOOD to have that cold water pouring over them.
The plan was to walk 13+ miles the next day – and I was seriously wondering if that was going to happen. We had a fun and beautiful evening together having dinner, storytelling, laughing and meeting several hikers who were checking into the same refuge for the night – Obi-Wan, Nocs (for the twins) White Cap and Gretchen . We went to bed around 8:30 am as the rumor was that a large storm system was heading our way and we needed to get up early to hopefully catch up with the storm that was due to hit at 2pm.
I soaked my toes two more times in the spring, put on my shoes and socks, and our team of 5 was on our way at 8am. The plan was to go the first 10 miles – check the weather – then make a decision on what to do next in the event of a storm. Nick's dad had also texted him explaining the gravity – needless to say – I was a little worried about walking on slippery rocks during a thunderstorm when it was quite difficult to walk on. dry rocks!
Luckily the day 2 hike was a lot smoother on our feet than the day before. So we did the 10 mile at 12:15 pm. The storm was still on the radar to strike at 2pm – so Brian, Jason and I chose to hire a driver to take us back to the Front Royal B&B to collect our car, and Kara and Nick were going to continue without their bags. (called Slack-Packing) for an additional 13 miles through an area called Roller Coaster. This is also where they reached the 1000 mile mark !!
The 3 of us made the decision at this point to also have a hotel for the night. This is the place in history where we deviated from the plan – thank goodness! We found a hotel in Charles Town WV, took a shower, took a nap and treated our toes with moleskin. Kara and Nick said they would leave around 6:15 am to Snickers Gap VA, and collect them and bring their "clean" clothes – which really means a little less smelly than their hiking clothes 😂. We also learned that communication goes up and down the trail like 100 years ago – and that Snickers Gap, which is just half a mile from the AT, is a great place known for its many craft breweries and restaurants. We chose Bear Chase Brewing, called my cousins ​​Mike and Cindy to join us, who live nearby, and had another fabulous evening in the huge backyard of this beautiful brewery. Another hiking friend, Cy, joined us and we spent several hours sharing other stories together.
Sunday morning, which was also Father's Day and our birthday was a bit too early, so we requested a noon departure so Jason and Nick could enjoy the hotel hot tub, and we also had spent time in the free breakfast room, again meeting another hiker friend, Craig, who had just completed his 32-day hike through the state of Virginia. He had been in a group of 7 people, and he was the only one who finished! His wife, 3 grown children and several grandchildren will all be there to celebrate with him. He was on Cloud 9. Recently retired from the mining sector, he started his new life with a great adventure!

Today's plan was for Brian and Jason to continue walking with Kara and Nick. At 12:30 p.m. and already 91 degrees in the shade, it was going to be a warm Snickers Gap hike through the remaining 3 miles of roller coaster and 4 more, while I, as a shuttle driver, chose to hang out in a beautiful little town called Purcellville. I was asked to pick up the hikers at 3:15 pm anticipating a faster hike as they were all packing today as I could keep the bags in the car with me.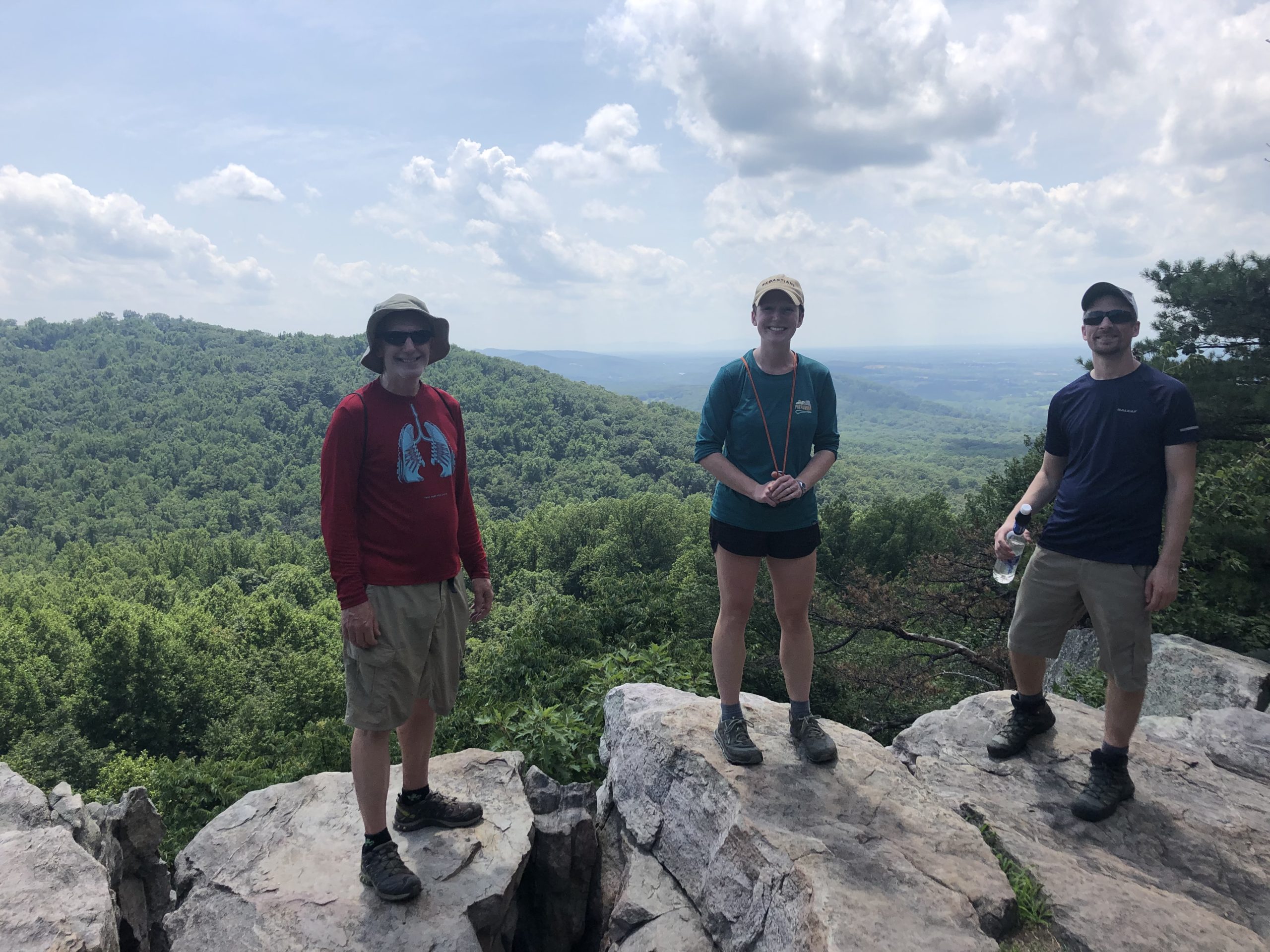 Two things have gone wrong here. The hairpin that was provided to me as the pickup location was on a one mile stretch of unmaintained road and I and the Equinox weren't brave enough to challenge the road. Cell service in these areas is spotty at best, as I was trying to call one of the 4 who would answer. As it turned out, Brian and Nick weren't even carrying their phones. Kara finally responded as I explained my situation. She also informed me that the terrain had been rocky and difficult and their estimated time of arrival was closer to 4.30am which would now include an additional 1 mile walk up a steep hill. Luckily they found me waiting downstairs with cold beer in the cooler. Hope this helped ease some of their pain.
It was time to celebrate again – and we went to the monks' barbecue, waiting for all the other dads to celebrate Father's Day. It was worth the wait – the beer was cold and the barbecue was outstanding. Nick enjoyed a full rack of baby back ribs which he shared with all of us – it was delicious bone scrap! From there we went to the tip cow for ice cream.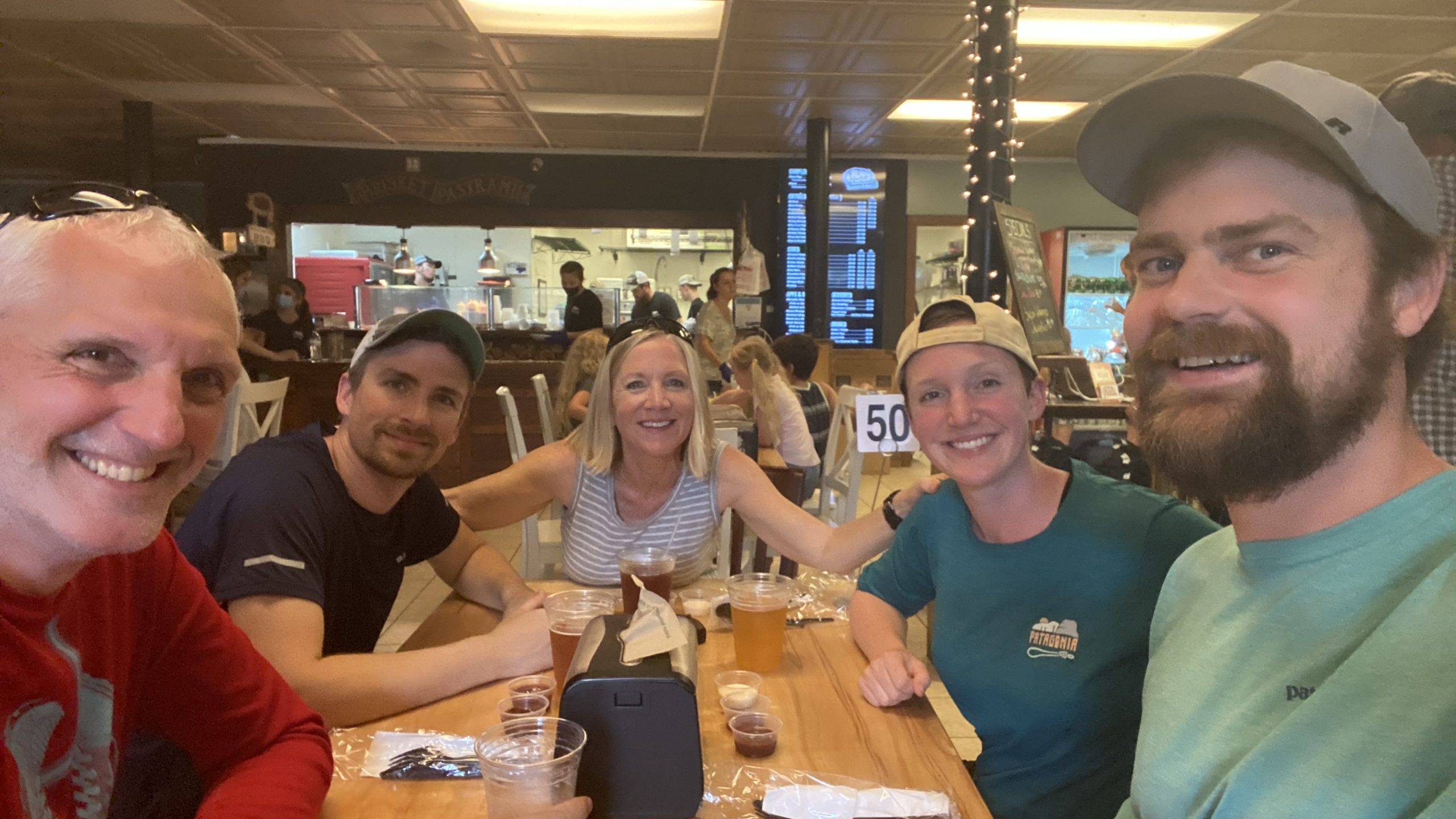 Kara and Nick, enjoying this luxurious new lifestyle very much, decided rather than return to the track – as the "plan" had been to say goodbye to each other, and the three of us headed to Dulles to load Jason into the track. plane early Monday. morning they would like one more shower and a night in a bed. So there were five of us at the Holiday Inn.
We said goodbye to Jason as he left with the airport shuttle at 5 a.m. and then they all went back to sleep until 8 a.m.
Kara and Nick had their farewell breakfast and we left the hotel around 9:30 am.
Brian, being much braver than me, managed to get the Equinox up the mile-long uphill stretch of road to Nick and Kara's delight – and we left them there – 10 miles from Harper's Ferry as they walked in their 5th state of West Virginia (only 9 states to go)!
Brian and I are now on our way home with big smiles on our faces and a whole new level of respect for what Kara and Nick have accomplished. Also, how often does a mom spend three days a day with her adult children. These last days will be remembered as the BEST OF TIMES 🥰
Affiliate Disclosure
This website contains affiliate links, which means The Trek may receive a percentage of any product or service you purchase using the links in articles or advertisements. The buyer pays the same price as they would otherwise, and your purchase helps support The Trek's ongoing goal of providing you with quality hiking advice and information. Thanks for your help!
For more information, please visit the About this site page.