Owners of Pacific's Newest Boutique Hotel Welcome First Guests to The Landing Hub | Local News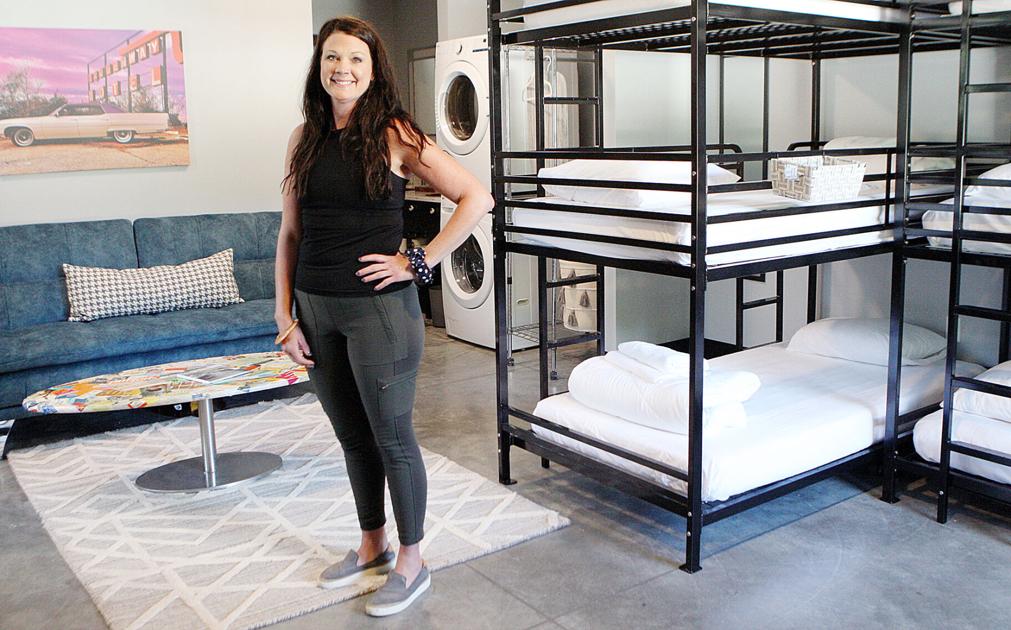 The Landing Hub, Pacific's new boutique hotel, has opened on the OO freeway just north of Interstate 44, and owners Jen Blakely and Shane Mayer hope its unique features will meet travel demands in the event pandemic.
The 10,000-square-foot contactless hotel has a sign that greets travelers and directs them to The Landing Hub's website where they can book rooms and get an access code, Blakely said.
The 15 rooms at the Landing Hub are occupied by 2, 7, 8 and 12, with a maximum hotel occupancy of 82 nights. Instead of booking by room, travelers book by "pod" or bed. So, if a customer books five pods in a 12-bed room, the other seven pods can be booked by strangers, just like a hostel. The hotel also has open indoor and outdoor common areas that include a communal kitchen, outdoor toys for the kids, a disc golf cart, and seven partially wooded acres for walking.
Blakely said she and her partner Mayer pitched the idea of ​​a contactless hotel for years after visiting similar places in the United States with their family. Blakely and Mayer have hosted Airbnbs since 2018 and said they appreciate the simplicity of a contactless system. After months of analyzing their Airbnb customers, Blakely said it's clear the hotel should cater to different types of customers. Just half an hour from downtown St. Louis, Pacific is suitable for travelers seeking a convenient city outside of the city or near attractions such as Six Flags, Hidden Valley, and Route 66.
Blakely said larger capacity rooms were more popular than traditional single and twin rooms in the first three weeks of opening.
Blakely, who is the chair of the Pacific Tourism Commission, said she is also using her connections with area wedding venues to promote The Landing Hub and its ability to host quite a wedding party. When full, Blakely estimated the total income for a weekend to be between $ 10,000 and $ 12,000.
On Labor Day opening weekend, Blakely said, September has been a slow month for the company, drawing 20 guests into The Landing Hub's three weeks of opening, but she expects more. interest in hosting later in the fall based on her experience with Airbnb. The approximately $ 2 million Landing Hub building was designed by architectural firm Jeff Day & Associates and constructed by RPA Construction Services, both of St. Louis. Investors Ken and Aimee Murer funded the project. Blakely and Mayer also own Pinnacle Plus, a commercial cleaning company in the Pacific, which they use to do the cleaning at The Landing Hub.
Blakely said she received positive feedback about the open common areas for the opposite reason why other customers love the contactless service. The spaces provide a place to mingle with strangers or get away from their own travel partners, something she can relate to when it comes to her own family.
Even as the coronavirus pandemic rages on, Americans are eager to get away from home. Allianz Partners, a travel insurance company, estimated that 60% of Americans plan to take a summer vacation this year, more than twice as many as in 2020.