Park People: conversation with a historian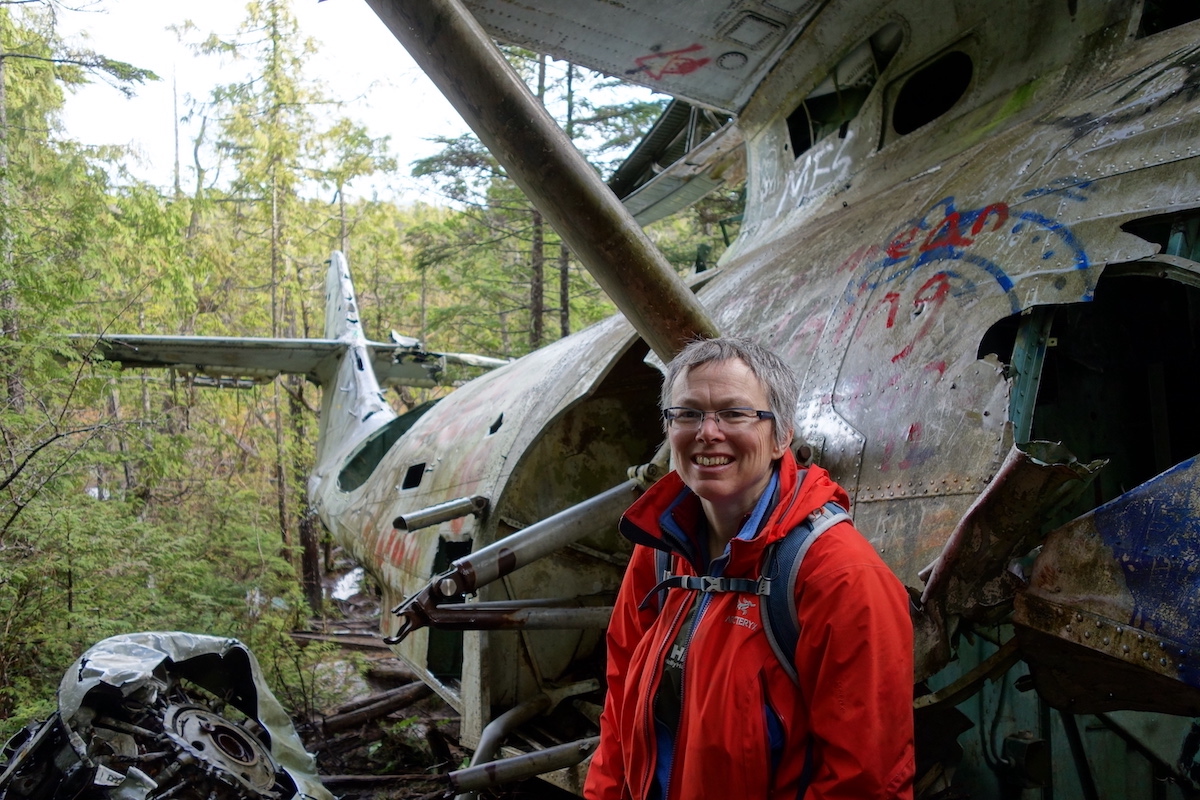 Parks Canada historian Meg Stanley has a succinct and evocative way of describing her work: "It's the art of inserting a story into a space, of taking a story and expressing it in three dimensions.
She looked at the history of the Trans-Canada Highway in Glacier National Park and Yoho National Park, helped redevelop Cave and Basin National Historic Site with new exhibits and an interpretive manual, and explored root cellars for an exhibit at Bar U Ranch National Historic Site.
The road to that dream concert started with a Masters in Public History from Western University, then 20 years of heritage consulting in Vancouver before joining Parks Canada in 2009.
Now based in Calgary, Stanley's role is integrated with the Archeology and History Branch and the Indigenous Affairs and Cultural Heritage Branch. She specializes in public history, the history of Western Canada and British Columbia, the environmental history of the late 19th and 20th centuries (including the history of Parks Canada) and the history of recreation. A typical day includes research, writing and collaboration.
One of Stanley's first major projects was to research Canada's internment operations during World War I for an exhibit at Cave and Basin in Banff National Park. "Enemy Aliens, Prisoners of War: Canada's First World War Internment Operations 1914-1920" explores how Canada interned civilian prisoners of war in countries with which it was at war.
She researched the subject, wrote about it, acquired images and worked with designers on the concept of the exhibition. "The historian is part of a larger interdisciplinary team," says Stanley.
She also worked on the redevelopment of Cave and Basin, which celebrates Banff as the birthplace of Canadian national parks. In 1883, three railway workers stumbled upon a mountain cave – long known to indigenous peoples – full of hot mineral spring water. They built a small structure and settled down to pay guests, but lost their bid to claim title to the land. The Canadian government wisely deemed the area closed to sale or settlement and began to create a network of national parks. A town, hotel, and bridge over the Bow River were built for people to access Cave and Basin.
"It was developed for a place to go for a swim," notes Stanley, "and so it is part of the original constellation of attractions in Banff National Park."
Again, there has been work on the screenplay, content development, image acquisition and collaboration with the designers, as well as help with the making of a film that will be released in English and in French in the exhibition space.
Stanley has now developed an utter fascination with "road tourism" and the way the Trans-Canada Highway has helped transform national parks by providing easier access. She thinks it's important to promote these types of resources so that people understand them "as something with a story, something with a philosophy".
His work on this front has touched Kicking Horse Pass National Historic Site, Rogers Pass in Glacier National Park and Yoho.
Another fun project was to examine the root cellar at Bar U Ranch, write a feature article, and help the site create an exhibit for its visitor center. She provided a general history of the vegetable cellars, a specific history of the Bar U vegetable cellar and an interpretive concept with text and images.
"What are the different ways people store food over time and how do underground cold rooms fit together? Stanley asks. She looked at canning, preservation, and how rural electricity has changed food preservation, and can still rhyme a list of food words (rot, rot, sour, spoiled, go to row , materné, asticot) associated with this project.
"I didn't think I was interested in preserving food, but I found it fascinating. "
Several historians work for Parks Canada. Stanley focuses on the mountainous and coastal terrain units of Alberta and British Columbia, but can be associated with other projects if his area of ​​expertise is needed.
Now she's working with Kootenay National Park on a series of "short" historical essays – short for her means 5,000 to 7,000 words – to mark her centenary and support interpretation and web material. She has already written two essays on Radium Hot Springs and will analyze the history of local freeways. She will also explore the park's iconic species – the bighorn sheep and the Rocky Mountain goats (which are the symbol of the park) – and find out how they are understood and managed.
"I think it will be interesting to tackle this," says Stanley.
On the west coast, she enjoyed studying the Canso bomber crash in 1945 (the site is in the Pacific Rim National Park Reserve) and expects to work on background material. "History can support different things," says Stanley. "Everything is not directly and obviously in front of visitors. Sometimes a few steps are removed.
When asked which tool, object or technique is most essential to his work, Stanley responds to curiosity and openness to error. "There's a lot of luck in my work. Maybe I'm looking for something and I find something completely unexpected that helps me humanize the story. And these stories never end. We always discover new ones. things or find a new way to think about something.