TIME TOUR: Garland County Library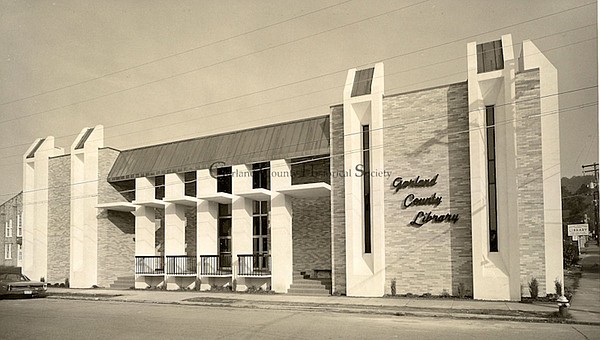 In 1833, 10 years before a library was established in Little Rock, Hiram Whittington established a traveling library in Hot Springs in his log home.
A photo from the 1870s shows a "circulating library" on Valley Street (later Central Avenue), but it apparently didn't last long. In 1881, the ladies of Hot Springs formed the Woman's Christian National Library Association to create a library that they hoped would help turn individuals away from saloons and eliminate street fighting.
In 1887, the WCNLA opened its first "reading room" at the Hôtel du Plateau. In 1891, they purchased two lots at the Whittington/Central avenues junction (where Fat Jack's now stands). They planned a three-story building, but a boulder flew from the mountainous site blasting, hitting a guest sitting on the porch of a nearby hotel. The lots had to be sold to settle his lawsuit. Thus, over the next several decades, the WCNLA operated a small library in a succession of borrowed rooms, ending in the 1930s and 1940s at 124 Court St. and from 1949 to 1950 at 1009 Central.
In 1948, residents voted a one million library tax and the Garland County Library Board was formed. County Judge Claude Brown granted the use of land on the courthouse grounds at the corner of Woodbine and Hawthorne streets for a county library. Along with the library tax, WCNLA assets, and donations, money was available for a library building. In 1951, the Garland County Library moved into a yellow brick building designed by I. Granger McDaniel at 200 Woodbine St. A children's annex was added in 1962.
Garland County voters passed a one-year, half-cent sales tax increase in 1992 to fund a new library building, which was constructed at 1427 Malvern Ave. in 1995-1996. A 4,000 square foot addition includes a children's department and a book sale room.
Many remember colorful longtime employee Gordonelle Williams, who served at Court Street, Central and Woodbine, and longtime manager Evelyn Belk (1952-1974). In 1983 John W. Wells became director. He has guided the library into the modern era during his nearly 33 years of service. Adam Webb, the current director, energetically took on the leadership role in 2019.
Why is the Garland County Library such a beloved and popular institution?
The mission statement says it best: Garland County Library connects you to materials, information, and services that promote learning and enjoyment for all ages. We're your connection point to the information you need, including books, movies, music and more.
And what is much more?
– Many more are DVD and Blu-ray movies, audio books, playback devices, video games, fishing rods, cake pans, puzzles, seeds, Halloween costumes, telescopes , internet hotspots, board games and even Mid-America Museum and Garvan Woodland Garden passes.
– There are many more programs for children, teens and adults: reading challenges, contests and prizes sponsored by the Friends of the Garland County Library.
– Many more are services like free delivery, curbside pickup, interlibrary loans, and books by mail.
For more information, the Garland County Historical Society can be contacted by email at [email protected]call 501-321-2159, or garlandcountyhistoricalsociety.com.
Gallery: Time Tour: The Garland County Library